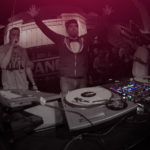 The DMC World DJ competition is celebrating 30 years of staging the greatest turntablist battles of all time and with it comes lots of festivities all across the United States. This year, Skratch Lounge celebrating their 3-Year Anniversary, hosted the 2013 DMC Seattle Regional DJ Battle. Feat. DJ Melo-D of The World Famous Beat Junkies with host DJ DV One.
Trinity Nightclub was packed with turntablists from all over the Northwest eager to show off their skills. In DMC's classic solo showcase style DJ battle, each DJ performed a 2 minute routine for the elimination round. The judges: Melo-D, Tre, Wicked, and E-Rok selected the top 6 to advance to the final round where they each performed 6 minute routines for their shot to be the Seattle regional champion.
Congratulations to The Beat Molester, the 2013 Seattle DMC Regional DJ Battle champion! The Beat Molester gets to advance to the 2013 DMC US Finals in New York City.
Final Standings:
1. The Beat Molester
2. DJ J.P.Gunnz
3. DJ Smerk
4. Kurt Kokain (aka DJ E-Fade)
5. DJ Cues
6. Scratchmaster Joe
For future DMC DJ Battles and other Rane events near you, check our Community Events page.
Skratch Lounge
In 2010, Skratch Lounge was formed by The Groove Techs (DJ Bamboo & DJ Spinja) in an attempt to bring awareness and a home for Pacific Northwest turntablists. Every first Thursday, groups formed to experience open scratch cyphers, followed by a battle showcase performed by the best local and out-of-town tablists. As West Coast recognition grew, Skratch Lounge was honored to collaborate with and be considered in the same league as Skratchpad, Skratcher, Battle Ave, and Skratchlab. In 2011, Skratch Lounge gained a large swing of momentum by reigniting the DMCs to return to the region, and it was welcomed by many, both scratch and non-scratch DJ's.