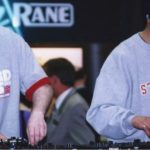 Rane's first venture into Hip-Hop was in 1998 with the introduction of the TTM54 Turntablist Mixer. The mixer was the result of some enthusiastic DJs approaching Rane at an AES show in New York and asking if we were interested in helping them build the ultimate Turntablist mixer. It sounded like an interesting project so Rane National Sales Manager, Jack Ewer, and I arranged to meet Big Wiz, Sugarcuts, Marz1 and Peter Parker in Spanish Harlem so they could show us what they do, how they do it and outline the shortcomings of available solutions.
The result was a mixer that quickly set a new standard with a number of industry firsts:
First use of VCA fader system.
First use of continuous crossfader contour control.
First use of reverse (hamster) and contour controls on channel faders and crossfader.
First use of assignable FlexFx effects loop.
First use of Rane's patented 4th-Order full-kill EQ.
The mixer offered significant improvements in both performance and features. We took the mixer to New York for a debut at TableTurns, a local turntablist competition set up by Sugarcuts in lower Manhattan. A taxi dropped us off in a dark alley next to an old brick building with a rusty steel door. Just a bit uneasy, we knocked on the door, it rattled open and a huge guy looked down at a couple of inappropriately dressed engineering geeks and said "you don't belong here." After explaining who we were, we were enthusiastically invited in and escorted to front-row seats. The mixer was well received and quickly became the turntablist mixer of choice. However, even with a more robust VCA fader system, DJs were able to wear out faders after a few hundred thousand operations, prompting a new investigation into the perfect Turntablist fader.
Next up: TTM56 Sets Standard.
Rick Jeffs
Senior Design Engineer
Rane Corporation