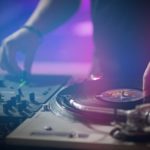 Following the success of the Rane TTM54, DJs challenged us to build a mixer with a fader that would never wear out and that had the critical feel and travel for scratching. I began work on a non-contact fader and in 2001 Rane introduced the TTM56, the first mixer in the industry to provide a computer controlled non-contact magnetic fader (U.S. patent granted in 2004). The fader system had no travel noise, no bleed, and lasted the life-time of the mixer. The result was a reliable instrument that was a perfect match for Hip-Hop artists and Turntablist.
The TTM56 also offered:
Continuously adjustable contour controls for up-faders
Independent and continuously adjustable contour controls for each side of the crossfader
Session I/O for chaining multiple mixers together
3-Band Isolator EQs
Wet/Dry PAN for FlexFx loop
Universal power supply
The TTM56 represents a mature battle mixer and is still considered by many to be the best "analog" turntablist mixer available. It remains in production today as the TTM56S.
Next up: Digital Mixing.