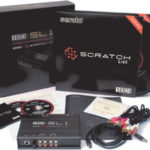 Our collaboration with Serato Audio Research began in 2004 with the introduction of the Rane SL1 for Serato Scratch Live. In 2002, Serato Audio Research had introduced Serato Scratch, Studio Edition. It was a plug-in for Digidesign's Pro Tools that allowed "scratching" any digital sample or sound file using a regular turntable or mouse as the controller. This incarnation had limited utility for DJs, but Rane and Serato believed this technology combined with a turntablist mixer like the TTM56, could revolutionize how DJs perform. DJs could hit the road with a TTM56, SL1 and laptop. Their software technology and our success in designing turntablist mixers were a perfect match.
The timing was perfect. DJs were still carting around hundreds of vinyl records that cost a fortune to ship from venue to venue and could be damaged or lost. DJs were also reaching the limit of what they could do using traditional turntable, fader, and needle drop manipulation.
Serato Scratch Live provided the tightest, most authentic Digital Vinyl System (DVS) with a unique, non-time-based noise map control signal.
Product attributes include:
Great Stability
Ability to organize and browse your music collection
Load music files onto Virtual Decks for playback
Manage Cues and Loops
Provided advanced visual feedback to assist mixing
Support for multiple file types
Very low-latency for realistic vinyl control feel
The software had the features and reliability required by professional DJs and it wasn't long before the system was widely accepted and DJs wanted an SL1 incorporated into a mixer.
Next up: An Integrated Solution.