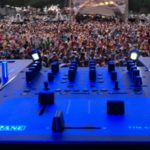 As mentioned in our previous post, DJs wanted Serato Scratch Live and software controls built into a Rane mixer. Rane introduced the TTM57SL for Serato Scratch Live in 2006. It was the first 2-channel turntablist mixer with integrated USB sound-card and software controls. The bullet list of special features reads like a combination of everything we had learned in previous mixer designs plus full integration of Serato Scratch Live.
Internal USB sound-card for Serato Scratch Live
Assignable software controls for Library, Cues, Loop and Effects
Rane's patented magnetic faders.
FlexFX effects loop system with built-in digital beat effects.
Independent Contour & Reverse controls with Channel Swap.
Programmable foot switch input.
Two input buses, each selects two analog & two USB digital sources.
Session I/O
3-Band Isolator EQs with kill switches
The TTM57 truly revolutionized the turntablist mixer and it became the most successful Rane mixer of its time. The evolution of Rane mixers was customer driven and it was rewarding to see where that had taken us.
Next up: The Ultimate performance Mixer.