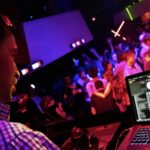 Have a big gig this weekend and want to make sure everything goes off without a hitch? One of the easiest ways to ensure everything goes right during your set is to adjust your Mac for live performance. Whether you're new to the world of Mac computers or a Mac veteran, optimizing your machine for use with resource intensive audio applications is quick, easy and highly recommended. The following basic system adjustments will help keep your Mac running smoothly, efficiently and—fingers crossed—glitch free.
disable the screen saver
Yeah, I know your computer warns you about shortening your display life, but it's either that or shortening your DJ career. To be honest, I've had my screen saver off for years and my display is still going strong (knock on wood). Screen savers are pretty and all, but there are much more important tasks for your Mac to 'think' about than turning on a screen saver. While using resource heavy applications, any interruption the CPU is forced to deal with can result in an audio dropout, glitch or some other unpleasant surprise. Save your resources and disable your screen saver.
Open System Preferences by clicking the System Preferences icon on your dock.
Click on Desktop & Screen Saver.
Adjust the 'Start screen saver' option to Never.
disable sleep options
If there's one thing you never want your computer or hard drive to do, going into sleep mode during a performance is at the top of the list. It's like falling asleep behind the wheel while going 90 MPH, but with a few hundred people in the car staring at you in horror. Save yourself the embarrassment and set your computer to never go to sleep.
Open System Preferences by clicking the System Preferences icon on your dock.
Click on Energy Saver.
Click on Power Adapter and adjust the Computer Sleep and Display sleep settings to Never.
In addition to the above sleep settings, turn off the below options: Put hard disk(s) to sleep when possible, Wake for network access, and Automatically reduce brightness before display goes to sleep.
turn off airport and bluetooth
Browsing the Internet and checking Facebook while performing…..really? Not only is this a performance faux pas, it's practically begging the computer gods for audio dropouts and other audible anomalies. Streaming audio through a low latency sound card requires uninterrupted USB communication between the operating system and audio device. Wireless and Bluetooth networking are notorious for interrupting USB communication and causing audio issues. You don't have to turn these options off and never use them again, but it is in your best interest to turn them off before performing.
Click on the AirPort icon in the Apple Menu bar.
In the drop menu click Turn AirPort Off.
To turn off Bluetooth, click the Bluetooth icon in the Apple Menu bar.
In the drop menu click Turn Bluetooth Off.
Congratulations, you're done!
For advanced Mac optimizations, be sure to check out 'Advanced Mac Optimizations for Live Performance', coming soon.