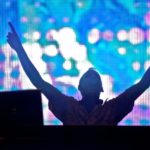 Welcome to the debut of our Artist Spotlight series. Artist Spotlight is our way of featuring exceptional DJs, artists and performers within the worldwide music community. For our first Artist Spotlight, we're starting with a man that needs no introduction, the legendary DJ, record producer and musician, Fatboy Slim.
Mad Flava
Wow, where do we start with such a prolific artist? Fatboy Slim, aka Norman Cook, has a discography spanning more than 25 years. According to Discogs.com, he's credited on over 550 record releases, which is nothing short of impressive.
A few aliases and groups he's been involved with include, The Mighty Dub Katz, Pizzaman, Beats International, Freak Power and DJ Quentox (The OX that Rocks). His music videos 'Praise You' and 'Weapon of Choice' won multiple awards, with 'Weapon of Choice' winning a Grammy Award for Best Short Form Music Video.
If that wasn't enough, Norman found the time to create his own record label, Southern Fried, start the Boutique Nightclub in Brighton—formerly known as the Big Beat Boutique—and tour the world to DJ in front of massive audiences and in unique places, such as the Great Wall of China, the closing ceremony of the 2012 Olympics, and the UK Parliament House of Commons.
Weapon of Choice
In 2008, Norman Cook was introduced to Scratch Live by fellow Brighton DJ—and 2011 UK DMC Champion—DJ JFB. Due to the tight Rane hardware and Serato software integration, he quickly adopted the Rane TTM 57SL performance mixer for use with Serato Scratch Live—with a few interesting modifications of his own.
As you can see, Norman's customization was done 'MacGyver-style' with gaffers tape and Perspex panels. He covered the "B" buttons and joysticks to prevent hitting them by accident during lighting blackouts while performing. As a self confessed 'luddite,' his idea was to keep things simple by limiting access to crate scrolling and track loading controls only. This configuration worked great for years, until a trip to New Zealand changed everything.
Weapon of Choice mk 2
While visiting Serato's headquarters in Auckland for the filming of the first Serato Icon video, Norman was introduced to his new love, the Rane Sixty-Two mixer. He was so impressed with the mixer, we decided to create a true custom solution.
His one-of-a-kind mixer is furnished with a special top panel and—as a bonus, because we think he's awesome—we screen-printed Fatboy Slim on the side panels. This not only looks cleaner than his old TTM 57SL mixer, it gives him the same library and track loading controls and—unlike his TTM 57SL modification—he now has access to the powerful and revamped onboard effects built into the Rane Sixty-Two.
"I am digging the Sixty-Two big time." says Cook. "The EQs are savage, the filters sexy and the onboard FX user-friendly enough for even a 'luddite' like me. Most importantly, the sound quality is second to none and there are two laptop inputs, so I can have a spare plugged in and ready to go if mine crashes (it does happen!)." – Fatboy Slim (Taken from the Sennheiser 'Fat Boy Slim is Cooking With Rane' press release)
You've come a long way, baby!
On the 23rd of May, 2013, Norman Cook was honored with the prestigious IMS Legends Award at the 2013 IMS Legends Dinner held at Cipriani during the 6th International Music Summit in Ibiza, which is one of the biggest—if not THE biggest—conferences held for the global electronic dance music scene.
"The dinner has become a major focus of IMS. Fatboy Slim has inspired an entire generation of DJs. He was one of the first DJs to ever truly have global chart success and the love for him in the room was pretty emotional." - IMS partner Ben Turner
The IMS Legends dinner celebrated Norman's amazing and lengthy career in the music industry, which included heartfelt video messages from music icons Iggy Pop and David Byrne of Talking Heads, a version of "Praise You" performed by the 20-piece Ibiza Choral Choir, and a Christopher Walken impersonator to perform the dance from 'Weapons of Choice.' Following the dinner was a free Fatboy Slim party, held at the Dalt Vila medieval fortress, with close friends Pete Tong and British DJ turned actor, Idris Elba.
"It was a real honor to be the recipient of the IMS Legends Award for 2013. To follow in the footsteps of Carl Cox and Pete Tong is a big statement, two of my favorite contemporaries in the DJ world. Pete and IMS put on a very special evening for me. All a bit overwhelming!" - Fatboy Slim
*Photo taken from Frostmagazine.com
Right Here, Right Now - An Interview With Fatboy Slim
Rane: I read that you play drums and bass guitar, do you play any other instruments?
Fatboy Slim: I am a jack of all trades and master of none. Guitars and keyboards mostly, but lazy keeping up any major chops!
Rane: Over the years you've used multiple pseudonyms, such as Pizzaman and Cheeky Boy, do all these names have personal meanings or are they random?
Fatboy Slim: Pizzaman was a reference to Captain Frank Furillo in Hill Street Blues, Joyce Davenport used to call him that in bed. Most of them were nicknames from ex-girlfriends.
Rane: Speaking of names, where did the name Fatboy Slim come from?
Fatboy Slim: He is an oxymoronic blues singer from the 1930s that used to record with Bo Weavil Jackson and Snooks Eaglin.
Rane: Being part of the early acid-house scene in the UK must have been amazing, what is your most standout experience from that time?
Fatboy Slim: I think for me it was the energy everyone had. Everybody you met was a DJ or a promoter or did visuals or made clothes. Everyone seemed involved.
Rane: Within the last 25 years, the electronic music scene has changed dramatically. Is there anything you miss about how things were back then compared to how things are now?
Fatboy Slim: Only the excitement of doing things for the first time, our records being played on the radio, getting to remix major artists (and paid for it), travelling abroad, computers.....all these things we take for granted did not exist but a generation ago! I feel blessed that I have lived through a Golden Age of electronic dance music.
Rane: During the free Big Beach Boutique II concert in 2002, you had an estimated 250,000 people show up for the event. You were only expecting around 60,000, what was it like having an absolutely insane amount of people turn out to watch you play?
Fatboy Slim: It was a major thrill, though equally a headache. Both the police and myself knew that there was far too many people there to guarantee safety, but equally knew it would be more dangerous to cancel it and have that many people walking the streets unhappy. It truly felt like a Woodstock of my generation, seeing all the tribes descend on one place to celebrate their music and culture.
Rane: In June 2005 you headlined the 'Other Stage' at the Glastonbury Festival, but actually loss money for that booking, what went down to cause you to lose money at that gig?
Fatboy Slim: Tee hee! Everybody loses money at Glastonbury! The way the festival operates, without sponsorship and etc., means that they always pay well below the going rate for everyone, but none of us care because it's such a beautiful and prestigious gig. If you spend any money on production, it has to come out of your own pocket. This year, I did six low-key shows at 'Glasto' and didn't ask to be paid a penny!
Rane: You've been incorporating a lot of video into your DJ sets, what inspired you start adding a visual element to your performances?
Fatboy Slim: As the DJ gigs got bigger, especially at festivals and on Brighton Beach, I was thinking of ways to make the show bigger, especially visually. When you have two turntables and a mixer it's kind of hard to compete with a rock band running around the stage. At first it was quite clunky, but the advances in technology over the past ten years—especially, of course, the Serato and Rane video combination—means we can have some real fun with the visual element.
Rane: The visuals and videos you're using are spectacular, are you creating them on your own?
Fatboy Slim: I work with my friends Tim and Bob at Plastic Pictures. We have a lot of fun with CGI, nicking YouTubes, painting my head and filming it. As soon as a new track goes into the big show set, we try and think of a way of augmenting or punctuating it.
From all of us here at Rane, thank you for everything, Fatboy Slim, and congratulations on such an incredible and well deserved achievement. Keep rockin' it!
TO LEARN MORE ABOUT FATBOY SLIM AND WHERE YOU CAN CATCH HIS NEXT SHOW, PLEASE VISIT THE OFFICAL FATBOY SLIM WEBSITE, FATBOYSLIM.NET
*Featured image taken from Facebook.com/fatboyslim