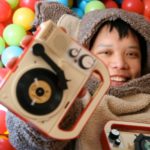 We were recently honored to sit down with Kid Koala and ask him a few questions about anything and everything. It was hard as a DJ, as a fan, and as a gear aficionado (read : geek), to begin to know where to start. So we threw the script out of the window and decided to have some fun with this unique opportunity. If you don't already know about Eric San, check out his wiki - wikipedia.org/wiki/Kid_Koala

Kid Koala posted this picture to his @KidKoala account with the following caption – gigantor disco ball. We love shiny disco balls and to be honest, this was the biggest ball of them all. We also happen to notice a nicely worn Empath in the photo.
Little did we know, but he was quick to inform us that this is his personal Empath that has been by his side for 600+ shows. So we'll unload a few questions about that to start out –

Rane: 600+ shows with that mixer is quite the feat, how many years did it take to accomplish that?
Kid Koala: It took a few years. On a busy year I would do upwards of 250 shows. But nowadays I'm a bit more selective.

Rane: I imagine your frequent flyer miles are many, if your Empath had a passport, how many stamps would it have in its little book?
Kid Koala: Probably about 20 or more countries.

Rane: Do you carry your mixer with you when you travel or is it tucked away with the rest of the tour gear? Does it have a special blanket?
Kid Koala: It's in a Rane flight case.

Rane: Does your mixer have a name?
Kid Koala: No. That would be weird.

Rane: What was your mixer's favorite venue or performance over that period?
Kid Koala: Madison Square Garden. Preservation Hall. The Biosphere. The National Space and Aviation Museum. The summit of Whistler/Blackcomb during the Winter Olympics...
For those of you fortunate enough to catch him behind the decks, you know how truly unique he is as an artist. The act incorporates numerous devices, sometimes as many as four decks, and he truly defines the heart of turntablism. Kid Koala takes ordinary and familiar sounds and morphs them into a coherent piece of music. You can expect anything from Charlie Brown samples to menus read in Cantonese to long drawn out notes that are manipulated and pitched to create different effects which all combine for your listening pleasure. His performances pack an air of fun, freshness and originality. Add in the visuals that a Kid Koala performance typically consists of and you have one heck of a party, the only thing missing is punch and pie.

Rane: Your performances are often packed with fun visuals, from robot puppets to giant cardboard gramophones to dancing girls in matching outfits, how much of that is planned and prepared by you for the tour?
Kid Koala: We've got a wonderful team we put together to create the Vinyl Vaudeville show. It consists of set/puppet builders Corinne Merrell and Louisa Schabas and dancer/performers Adira Amram, Jessi Colon and Maresa D'Amore-Morrison. We also have Vid Cousins, who is our sound engineer, resident master paper airplane folder. He is also responsible for flying the RC helicopters.

Rane: Do you have an "all-time" favorite prop you've used?
Kid Koala: A professional thumb wrestling ring.

Rane: In your career, how many different life size animals have you dressed up as on stage? Do you have a favorite? Doesn't that get hot?
Kid Koala: Only 1. I lost a bet and had to wear a damn koala suit for 100 concerts. I'm done with the 100 concerts now which is good because it was boiling hot in that suit.
Rane: When digging for samples these days, do you still prefer the "old person" smell of bargain bins or are you more savvy to go digging on the digital side? Has your approach to sampling changed much over the years?
Kid Koala: I have a record lathe in the studio that I bought in Germany. These days I will record original instruments, chords and melodies in the studio and then cut them to vinyl to be later scratched, bent, and reassembled into a track. It adds a step to the recording process but I still get that push/pull "handcut" sound on the tracks.
Rane: Have you ever considered serving punch and pie to the audience?
Kid Koala: I remember a gig in the middle of winter at a club in Rhode Island. The building's heater was broken and it was freezing in the club. The audience didn't check their coats, instead they kept their parkas, scarves, down feather vests and wool hats on while they boogied. It was so cold everyone could see their breath. There was a box of hot chocolate packets in the dressing room. I went and got them and poured everyone a cup of hot chocolate. I had to plug the kettle into the same power bar as my turntables. Oddly, it became part of the show. They were an appreciative crowd but there was no more applause after that point in the show because everyone was carefully holding and sipping their hot chocolate on the dancefloor.
We usually serve cookies to the audience at our Space Cadet Headphone Concerts. And we had done a 3 course supper club set for the launch of Nufonia Must Fall book/soundtrack back in 2003. Those are the only food related gigs done to date. But a lot of my friends are chefs so I'm sure there will be some cool music/food collab events soon.

Even if you've never experienced the originality and child like enthusiasm that Kid Koala spills from the stage, his website http://kidkoala.com/ has loads of interactive media for you. Also a Graphic novelist, there is a collection of his works along with some short movies ready for you to enjoy in the "Visual" tab. His artwork has been featured on Rane DJ product catalogs, T-shirts and is prominently displayed around our building. The diversity of content makes you wonder how he finds enough time in the day to carry on all of these projects.

Taking a look around his website, you begin to get a sense of how truly unique and imaginative he is. This creativity has led to numerous collaborations across the entire spectrum of the music industry. Over the years, he has performed with Orchestras, full bands and as a solo act. Kid Koala's music has been featured in all kinds of places, from Skateboard videos to video games, not to mention your local
dancefloor.

Rane: When you are creating music, do you say "oh this one is for the clubs" or "this would be a great little bit for a short movie"? How does that process work for you?
Kid Koala: Yeah there is always some context, at least in my mind there is! The Slew, for instance is a record we made for our skateboard friends in Seattle. It also turns out it's great music to mosh and stage dive to. We didn't find that out until we started touring that project. Sometimes, I just try to make a musical score to imaginary narratives in my head.

Rane: Your music has appeared on the Cartoon Network, Sesame Street and also the Adult Swim. If we were to hide in your bushes at night, which of the three are we most likely to catch you watching? Why?
Kid Koala: I have a 4 year old daughter so we try to watch TV together sometimes. We'll watch Sesame Street and Adventure Time on Cartoon Network. She loves the Muppet Show. Her favorite skit is the one where Harry Belafonte and Animal do a drum battle.
Rane: You've opened for some huge acts including Radiohead, Beastie Boys, A Tribe Called Quest and many more; whom would you have out to be your dream opening act? Why?
Kid Koala: It'd be great to have some crazy food network star open the show and show everyone how to souffle something or someone from HGTV come up and show you how to fix a cabinet or something. That would be fun and educational and random.
Rane: Your latest release was the 12-Bit Blues album. In the creation of this album, you chose to not use any sequencing software. What was behind that decision and how do you think it helped shape the overall tone of the album?
Kid Koala: I liked how all those old Delta blues recordings were usually just hammered out on the spot. A lot of them were made by one man bands where they would stomp one foot for the drums and play bass lines on the low strings, leads on the high strings while singing lead and soloing on harmonica. Sometimes in the songs they would forget a lyric but keep chugging along on the guitar or drop a beat or add a bar here or there. The point was there wasn't much of a safety net. If they stopped the music would stop. I kinda liked that idea. So I just punched all the beats out in real time until my hands got tired and that would be the take. Same goes for the scratching. I wanted to use these hip hop tools to make a blues album. I wanted it to be hammered out on the spot. If it drifted off a grid that was okay... it was all about the feeling.

Rane: What is next for Kid Koala? How about your side projects like Deltron 3030 and The Slew?
Kid Koala: We are currently working on a follow up to The Slew album. I'm really excited about that. It will be fun to get out there and play for the rock crowd again.
I'm also working on a new book about mosquito that plays jazz music. I've been working on the soundtrack to that book with the Preservation Hall Jazz Band from New Orleans.
I'm also really excited about the new Deltron 3030 album Event II. We've been doing some shows to test the new songs with a full orchestra on stage. Nothing like hearing a real orchestra. It gives you the chills.

We'd like to thank Kid Koala for participating in this slightly off-the-wall interview. We would also like to thank him for his continued support and being a true Empath ambassador. Please be sure to go to his website http://kidkoala.com/ and take a look around, plenty of fun and interactive items to play with. But we aren't done just yet, we have the wacky lightning bonus round of questions……….. Go
Rane: Did you know that we know that you know that we know you were recently listed on David Lynch's playlist of songs that inspired his new album? On a 1-10 scale, 10 being super mega rad, how do you rank that one?
Kid Koala: I would have to say 11! David Lynch is one of my favorite artists.

Rane: Did you know having all of the gear that you have can cause a person to go blind? (Seriously, we'll take some of that off your hands)
Kid Koala: I'll be sure to let you know when our next garage sale is happening!

Rane: Did you know that the koala is an arboreal herbivorous marsupial native to Australia, and the only extant representative of the family Phascolarctidae?
Kid Koala: Say whut?

Thank you again Kid Koala, you've been a great sport and a wonderful influence for creative minds.

Words: Chad Simer
Photos courtesy of Kid Koala
Featured image : Corinne Merrell