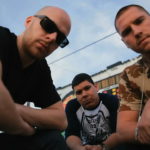 If you weren't familiar with them before VH1's Master of the Mix show my guess is most of you are now. DJs Jayceeoh, Incrediboi, and Chris Karns were the top three finalists who were able to flex their skills behind the decks for the world to see. Although Jayceeoh took home the title, its safe to say they all proved to be masters of their craft. We were fortunate to connect with each of them to ask some questions fellow DJs might want to know about their career, thoughts on the state of DJing, and their time on the Masters of the Mix show.
Rane: So Jayceeoh, you won the title of the Master of the Mix. What is next on your agenda?
Jayceeoh: Tons of touring around the US and internationally. I will be doing dates with Smirnoff as well as my own tour schedule. I also have a ton of original production ready to unleash on the world. When I am not on the road my main focus is making music. Originals, remixes, and artist placements are all in the works.
Rane: You mention originals and remixes and you also showcased your production chops on the show. How important do you think knowing how to produce music is in today's DJ industry?
Jayceeoh: Production is #1 for me right now. Being that I have been DJing for 16 years I have sort of hit the pinnacle of what I can do as just a "DJ". Yeah I can get more and more bookings at a higher rate now but to really make it to the next level production is the only way to do it. As unfortunate as it is, producers are the only people getting booked to play major festivals' stages. It sucks, because a great DJ could put together a much better set than 99% of producer DJs. But the producers are creating a light show and an experience and it is all based around records they produced and being an "Artist" rather than just a "DJ". I look forward to this challenge.
Rane: Incrediboi, touring with Lil Kim is quite the opportunity. How did you get linked up with that gig?
Incrediboi: My old manager, Ron Benefit, is a close friend with Kim's original DJ, DJ Boogie. In 2010 she was scheduled to do a summer promo run around the US and Boogie was booked up and couldn't do the tour. He asked my manager if I could take over for that summer and my manager was pretty much like "why not?" I received the call on my birthday to audition for Kim and two days later I had the gig.
Rane: Have you got any other high profile gigs through that connection?
Incrediboi: Yeah, I actually had the chance to do a few after parties in Africa & Australia, which were pretty fun. Ever since that, I've wanted to do more out of the country gigs, since the appreciation for music is on a different level.
Rane: Where was your family originally from? Have you had the opportunity to tour in any Latin countries? If so, did it change your prospective on DJing and if so how?
Incrediboi: Both of my parents are originally from Puerto Rico and I guess they decided to raise a family out in New York City. I haven't had the chance to perform in any of the Latin countries yet, but that's also one of my goals. The great thing about New York City is the diversity of the people. There are so many different cultures in ONE place it made me a musical sponge. There's a lot of multi-genre clubs where I'm from and it definitely made me a better DJ, being you had to play like five different genres of music throughout one night.
Rane: Was your family supportive of your choice to DJ early on and has their outlook changed now that you've had so much success?
Incrediboi: In the beginning they thought it was more like a phase, you know how kids want the newest gadget or toy and once the next craze comes out that previous toy is completely forgotten about. In my case, they watched me not want to do anything else BUT practice and spend all my lunch money on records every week. The transition from being a bedroom DJ, to doing house parties, to clubs, to touring, was the moment it changed their perspective on it. They never thought all the noise I was making at home would take me around the globe, to now being on TV. I've made them proud, so one of my missions has been accomplished.
Rane: Jayceeoh, I know you picked up a Sixty-Two after using it on the show. Have you owned any other Rane products? If so, what?
Jayceeoh: I have had a Rane TTM 56 since college. Always loved the feel of Rane mixers. Also, I have owned the SL1 and SL3.
Rane: Has updating to the Sixty-Two made your life as a DJ a little better and if so, how?
Jayceeoh: I can get way more creative with my DJ sets now. All the functions are right there for me and I don't have to spend half my set hitting cues and searching for songs on my laptop.
Rane: Incrediboi, had you ever played on the Sixty-Two prior to the show? If not, how was your experience using it on the show?
Incrediboi: No, actually it was my first time using the Sixty-Two. In the beginning it was sort of intimidating, being that some of the DJs on the show were familiar with the mixer, so I sort of felt like it was a disadvantage till I experimented more with it during practice sessions. It's an amazing mixer and watching a guy like Chris Karns use it blew my mind and made want to learn more of the features and effects it has.
Rane: Chris, you've been a Rane supporter for a long time and had a beta version of the Sixty-Two before it even hit the stores. You definitely push that mixer to its limits and obviously came into the competition with a bit of an edge over the other competitors. I'm curious if you helped the other competitors or if you kept your expertise to yourself?
Chris Karns: Ya know, I am very, very competitive but I'm not competitive enough to not tell people about features the Rane Sixty-Two has. There were quite a few people who hadn't tried it yet. One of my goals during the competition was to make sure that every DJ left there realizing that it was one of the greatest mixers ever made and, if you know how to use it, makes DJing a lot more fun.
Rane: This year was a busy one for you. Winning the DMC finals, being on the MOTM, and touring with Yellow Wolf. What's next on your agenda? Any plans on going after the Red Bull 3 Style title again?
Chris Karns: Yes, I had a busy year for sure. It was a lot of fun. I love DJing and I want to be able to continue to do that. I'm going to continue doing whatever I have to do to keep my career going. I'm going to start by putting out a lot of original music in the near future. As far as battling or doing Freestyle again; yes, I would do Redbull 3 Style again for sure. They upped the prize money a little and I never really accomplished what I wanted to compete in that battle. If its like last year, and they have a solid panel of judges throughout the entire process, I think I would have a pretty good chance at taking home the world title.
Rane: Your turntablism skills definitely shined through on the Masters of the Mix show. When you were in the bottom two early on in the competition I felt like the judges never intended to send you home but maybe wanted to scare you a bit into playing to the crowd a little more vs just using your turntable skills. In hindsight, do you agree with the judge's assessment and do you think it was a helpful wake-up call going forward in the competition?
Chris Karns: No. In hindsight I don't agree with the judges. I didn't at the time and I still don't. I know that was just for TV shock value. It was not legitimate. The judges told me that I actually wasn't in the bottom two and that it was for TV. All they chose was the winner and the loser and as far as being on the bottom, according to them I technically wasn't on the bottom. I think they have an agenda on the show against highly skilled DJs who have a battle history already coming in. I think they have the false idea that it makes their battle look better if someone who is a world champion DJ comes in, looks like shit, and gets eliminated quickly. They think that makes their battle look stronger in some way. They had their agenda. Whatever. It is what it is.
Rane: Incrediboi, what do you have to say to DJs starting out and looking up to other headlining DJs such as yourself? What gear would you recommend they start out with?
Incrediboi: I always recommend to anyone who wants to seriously take up DJing to start with turntables. The turntable is like driving a stick shift car. I feel once you learn a turntable in and out, any other deck substitute should be a piece of cake to use. Sometimes I have people who want to "try" DJing out and I always tell them to get a basic DJ controller and if they fall in love with DJing naturally they'll want to use the big boy equipment like turntables and a real mixer.
Rane: The all-in-one controller market has been on the rise for quite some time while DJs rockin a mixer and Technics are becoming more and more rare. What inspires you to continue to carry around heavy decks and a mixer?
Incrediboi: It's my foundation and I will always prefer them to any piece of equipment even though I do own a controller and don't necessarily knock it. Nothing beats the feel and FULL control of an actual vinyl record. It's hard to mimic that feeling but thanks to you guys at Rane and Serato, the foundation is kept alive with Serato Scratch Live.
Rane: I know you've been in the digital DJ game for quite a while. What do you miss the most about the pre-digital DJ era?
Incrediboi: Physically hunting for music. Going to the record store was always something to be excited about. Coming across white labels, test pressings, and promos was like finding a winning lottery ticket and the ride back home always made you feel like a kid wanting to a unwrap a Christmas gift.
Rane: Chris, what do you miss most about the pre-digital era?
Chris Karns: One thing I miss the most about the pre digital DJ era is the days where you had to put in a lot more effort to be a DJ. It eliminated a lot of these suckers out there these days that claim to be DJs and just carry their laptops around and then have the nerve to complain about having to carry their laptops when back in the day we were lugging in all the gear and records. I think during that era things were a lot more pure and you could tell who was good and who was bad because you couldn't fake it with vinyl. A lot of people use digital DJing as a crutch and an opportunity to not have to do anything. I really can't stand seeing a DJ on their computer browsing Facebook and not paying attention to what they are doing. It's pure laziness and I miss the days you had to put in a lot more effort to be a DJ.
Rane: Jayceeoh, you've been in a bunch of DJ battles throughout the years and some of those have been DMC competitions. Is winning the DMC competition still on your bucket list?
Jayceeoh: I lost the steam for DMC a while ago. After 2006 when I placed 3rd in DMC US Supremacy, and 2nd in DMC US Teams I was good. I wish a DMC title meant as much as it used to. A DMC title used to be my ultimate goal when I started DJing. But my focus has changed, winning a DMC title isn't something I am chasing. I will always cut, and juggle and use those skills in my shows and at home when I am bugging out and practicing. I would rather judge and showcase at a DMC. After winning 'MASTER OF THE MIX" I am comfortable retiring from battling.
Rane: I heard the tune you did with my man Scene. How long have you been working on music? Is juke/trap your genre of choice at the moment? Do you have any other collaboration in the works?
Chris Karns: I've been producing music for eight or nine years but didn't work on music through 2010/11 because I was focused on elevating my DJ game to a level where I could win a world title. I knew I wouldn't get there if I spread myself too thin. I learned how to make beats from BassNectar during a class called Red Bull Music Labs, not to be confused with Red Bull Music Academy. I filled out an essay and got in along with nine other people and was in the studio for five days with him. We learned how to use Reason, which I used for quite a few years, but have spent the last few years on Ableton Live. As far as collaborations go, I'm collaborating with Super Vision (Pretty Lights Music Label) and have got together with the very talented, Illesha who recently moved to Denver. We have started working on some track ideas that are sounding really cool. I'm always going to keep that moving. Making original music is my top priority right now.
Rane is very proud, and honored, to have such great talent behind the gear we make and we thank you!
A big Rane SHOUT OUT to Smirnoff, VH1, judges Ben Maddahi, Kid Capri, Mia Moretti, and all the Rane supporters on this years show: DJs Tina T, Asha, B-Hen, Brian Dawe, Royale, PM, Loczi, Obscene, Lisa Pittman, Infa Red, I-Dee, Hohme, Fly Guy, Exel, Dynamix, and Dimepiece.