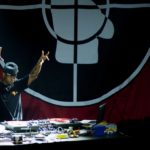 We're pleased to add DJ Lord of Public Enemy to our Rane Artist Spotlight series. DJ Lord cuts a few minutes out of his busy schedule to sit down with Rane for an quick interview.
Dj LORD is a key member of the iconic group Public Enemy, legendary turntablist and multi-genre Dj. His style is a unique combination of precision cuts, lots of bass and unexpected mixes that keep crowds worldwide rocking.

While growing up in Savannah, GA, LORD was exposed to the 80's Philly Dj scene by a cousin and set his sights on learning the craft. Heavily influenced by industry pioneers such as Dj Cash Money, Dj Jazzy Jeff, Grand Master Flash, Jam Master Jay, Mix Master Ice, and Terminator X he quickly learned key scratches and started incorporating them into his sets. His own style rapidly developed.

By 1999, LORD's expertise as a battle Dj as well as an all-around performer was noticed by Professor Griff of Public Enemy, who was looking for a new Dj due to Terminator X's retirement. A month after meeting, LORD was on Public Enemy's 40th World Tour. Since joining as a permanent member, he's been an integral part of the group from production to touring. The rest is history.
We're pleased to welcome DJ Lord to our Artist Spotlight series
Rane: In 1999 you joined up with undisputable hip-hop legends, Public Enemy, as their DJ. What was your DJ life like before that?
DJ Lord: Wow, well let's say it was not for the weak! I moved from Savannah, GA to Atlanta, GA after exhausting every way I knew how to 'make it.' From local rap groups to selling mix-tapes to clubs to mobile DJ services, up down and around and not even clearing the gear rental fee on most nights. It was rough, but necessary. After moving to Atlanta, I bum-rushed the battle scene...the rest is history.
Rane: How did your first meeting with Public Enemy take place, when was that?
DJ Lord: Well, once I settled in Atlanta, doing my Foot Locker & Radio Shack thing—yeah, two jobs in the same mall, upstairs and downstairs (start the day looking like Clark Kent and leave looking like Superman in black & white polyester stripes..heh), I met Professor Griff through my homie Rock Most, my roommate at the time. He was doing some production for Griff when he mentioned that Public Enemy was looking for a DJ for their upcoming Poison Tour, so naturally Rock threw my name in the hat.
The next part went like a blur...Rock told me while I was getting dressed for work. I thought it was BS, I got pissed, I slammed door, but then I come home to Griff in my living room. I look like goofy, Griff asks me if I was down, I say, "HELL YEA!" Then Griff sorts my passport, I meet Chuck D, I almost pass out and I'm on a plane headed to Belgium 2 weeks later NO rehearsal. I screw up left and right unable to concentrate. During this time, Chuck and Flav give me encouragement. At about five shows in, I FINALLY realize that I was mimicking Terminator too much and that I was actually losing myself (style wise), which was the reason for the screw-ups, plus nervousness. Once I started doing ME, I nailed it.
Rane: In the early days of cutting up beats in your bedroom or at house parties, what was your goal, what was your dream as a DJ?
DJ Lord: My dream as a DJ in the early days was: 1. Be able to skratch like Grandmaster Flash, Jazzy Jeff, Cash Money and Jam Master Jay (in that order) and 2. Be able to rock a crowd.
Rane: As a young DJ, who inspired you? What were they doing that made you take notice?
DJ Lord: As a young DJ I was inspired first and foremost by my uncle Raymond Holmes (RIP) and Cousin Bernard Watley in Chester, PA. My uncle was always into music and repairing audio equipment, so it was a common thing growing up to sneak into his basement parties and hear bands like Parliament Funkadelic booming from the speakers. My cousin Bernard was DJ in Chester, PA, so during family reunions I would always sneak into his room and try to mix/scratch on his set...ONLY to get punched out every time...but well worth the beatings now.
Rane: From 2000-2004 you were highly involved in the US battle scene, how does the mental preparation for that compare to what you go through now, before a solo show?
DJ Lord: Ah man, those were some beautiful and STRESSFUL days. The mental prep is different in comparison though. For the battles, it felt like me against the world. Compared to a solo show, that felt like quicksand in space without a helmet every time I stepped up there. From needle skip paranoia to routine amnesia under pressure, it all made me the beast I am today. Party rocking is a piece of cake.
Rane: We follow you on Facebook and Twitter and have seen quite a few posts about MMA. Is that something you currently train in?
DJ Lord: I love MMA and I've been training in Martial Arts since my teenage years. Starting in Kajukenbo style under Sifu Kitani in Savannah, GA and now Muay Thai style under my Kru "ILL" Will Ivy at Unit 2 Fitness in Atlanta, GA.
Rane: Do you have a preferred style? Muay Thai, Jiu-Jitsu, Greco-Roman?
DJ Lord: Muay Thai of course.
Rane: Are you able to work out and stay conditioned while you are on the road or does the world-class cuisine and long hours trump your determination?
DJ Lord: I admit it gets pretty rough on the road man. I mean with the Public Enemy camp 50% of the crew trains in some sort of discipline, so I have good energies to bounce off of, but at times amidst 8-12hr flights it gets difficult to stay in-line, especially with late shows and ONLY 'McCrap' fish sandwiches and fries to eat.
Rane: Are you a UFC fan, have you ever been to one of their live events? Did you know that AL3 (Official DJ of the UFC) is also a Rane user?
DJ Lord: I'm a HUGE UFC fan and catch the events in Vegas from time to time, but I didn't know AL3 was a Rane user—DoPE!
Rane: Do you think that your hand speed and coordination required while DJ'ing translate into skills when boxing?
DJ Lord: It DOES and it's funny you mention that because my trainer said the same thing a few months back, Real Talk.
Rane: When you aren't on the road, how are staying busy as a DJ? Do you do any radio?
DJ Lord: When I'm not on the road you can find me at either of my two ATL residencies. On 1st and final Friday's, I DJ a night called Fantastic Friday's at MJQ Concourse, alongside Dj Fudge, Dj Majestik and Dres Tha Beatnik as the host. The second residency is called Saturday Swerve at EL Bar with just me taking the crowd on a Sick musical ride of just good music no matter the genre. Stay tuned for a podcast in 2014.
Rane: How can someone come down and check out what DJ Lord is doing in person?
DJ Lord: Call my agent...LMFAO. Naah, just go through the necessary NASA screening and then I can kick it wit'cha (people are nuts these days ya know?). But seriously, I'm constantly touring so for anyone in Europe, Canada, Australia or the US there are many opportunities to see me in action. Checkout my website (djlord.co) or Facebook (www.facebook.com/DjLORDofficial) for dates near you.
Rane: Are you a fan/heavy user of Social Media? Do you think it helps artists?
DJ Lord: I am a fan and I use it to the fullest, but you know Social Media is a gift and a curse. In this era, it's essential in helping artists promote themselves. For the most part, it's FREE but the curse is that if you aren't careful, you can get caught up in the crazy side of it and get sucked into addiction, spam, groups, etc..kinda like crack.
Rane: We noticed you recently went out to a night with Goldie (Metalheadz) and Lowqui on the mic. Tell us about your involvement with Drum & Bass. Are there other genres of music that you gravitate towards?
DJ Lord: Whoa, THAT was the first night I landed in Dubai too. NO sleep. Just bounce. I actually still spin DnB whenever I get a chance in my sets. I first started hearing DnB when I was booked at festivals to play Hip Hop. The tents were so close that I always heard it and gravitated to the more 'ravey' parts of the grounds. After that, I started incorporating DnB into my battle sets. To me it's just sped up Hip Hop. As far as involvement, I ran with the group Trill Bass for a while and they would crank out some of the filthiest tunes I had ever heard before we split. I listen to all genres of music man. It's all BPMs in my ears.
Rane: How long have you been a Rane user?
DJ Lord: I've been a Rane user since 1998, starting with the Rane TTM 52 Mojo. The faders were always my preference because of the cut-in time, knob contour and of course the crystal clear sound.
Rane: Do you still use a combination of regular wax and Scratch Live or does having it all on the computer provide an essential convenience for you?
DJ Lord: I'm still a die-hard vinyl junkie, so I continue to dig as well as have my 'blood, dust, hangnail, skinned cuticle, sweat and tear collection,' BUT in my current set's it's ALL digital. Coming from a veteran era of carrying milk crates of vinyl UP stairs/DOWN stairs for parties, getting hit with INSANE airline fees when carrying vinyl on International gigs, as well as moving my massive collection from place to place with friends ducking your calls for help. Scratch Live is the best thing since sliced bread.
Rane: Public Enemy is known for having an elaborate stage performance, are there many rehearsals before the group sets out on tour?
DJ Lord: Public Enemy rarely calls for a full on rehearsal before tours. Most times it depends on how long it's been since last tour or how new the material or set-list is that we have to perform. At this point, you're looking at a stage full of professionals who have uncanny chemistry and are out there for blood.
Rane: When you are up on stage performing with Public Enemy, do you do much improvising with different beats or juggles? As artists, are you able to read each other and know when a change-up is coming?
DJ Lord: Yup, I'm always switching up and always pushing the envelope. Most times our shows are freestyles made up from a jam session at sound check earlier that day. Same goes for my solo routines. For instance, my "Smells Like Teen Spirit" routine was made in my headphones while I was battling our guitar player for fun at sound check. As artists in Public Enemy, we read each other's minds all the time during shows. Especially Chuck D and me, I mean there are times where it's damn near telekinesis. He throws a fast ball or a slider and I connect and knock it out of the park.
Rane: Thank you for taking the time to make this interview possible.
DJ Lord: Thank you all for your time and technology. You guys are truly a blessing.
DJ Lord and Hulk have joined forces to give RLTK by Public Enemy a serious remix treatment!
Big ups to DJ Lord and Public Enemy for keeping it real and for continously pushing the boundries of music, society and outworn mindsets. Lemme hear you say, fight the powers that be!
*Interviewed by Chad Simer