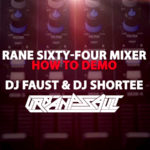 What could be better than watching Faust & Shortee rock the Rane Sixty-Four mixer? How about a video demo about how they pulled off some of their amazing tricks? Check out this great how-to video from our friends Urban Assault for some insider tips and tricks.
For those attending the 2014 Winter NAMM show in Anaheim, don't miss Urban Assault perform live at the Rane booth Thursday at 12:00 PM.
Here's the original 'Urban Assault Rock the Rane Sixty-Four video,' in case you missed it.