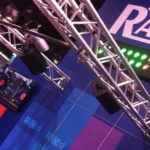 As many of you may know, the National Association of Music Merchants, aka, NAMM is held in Annaheim California in January each year and showcases the latest and greatest in music gear. The Rane booth has always historically been an exciting stop on the convention floor. This year was nothing short of awesome with the release of our Sixty-Four mixer, new features with the Sixty-Two, and the powerful improvements in Serato DJ.
Day 1
First up! We were fortunate enough to have two of our go-to Rane DJs, Faust and Shortee, aka Urban Assult, grace the decks and show us how they work on the Sixty-Four.
http://www.urbanassaultmusic.com/
DJ Big Wiz walks through Serato DJ and the firmware additions to the Rane Sixty-Two.
Day 2
One of Rane's newest friends and Ableton clinician, James Patrick, showcased how he uses his favorite mixer, the Rane Sixty-Four with his Ableton Live DJ set.
Part 1
Part 2.
http://www.jamespatrickmusic.com
DJ Big Wiz running through the paces with the Rane Sixty-Four and Serato DJ.
DJ White Shadow doing his thing with Serato DJ and the Rane Sixty-Four.
Day 3
Seattle's own DJ Niros doing a video set with Serato DJ and the Rane Sixty-Four.
Part 1.
Part 2.
James Patrick using the Rane Sixty-Four in his Ableton Live performance set.
Day 4
DJ Big Wiz goes over the differences between the various Rane devices so you can choose which one is right for you.
Our NAMM 2014 photo album can be found here: Facebook/OfficialRaneDJ
We'd like to give a huge thank you to all of our reps, dealers, and Rane supporters who help make what we do possible.
A special big shout out to Jason "Feniks" Couture, Daniel Dub Cowboy, DJ Eyecon, DJ Ace, DJ Nutron, Joshua Karl, the Serato fam, DJ Big Wiz, James Patrick, DJ Niros, Faust and Shortee, Ramon Guzman, Kevin Shoop, Ty Buchanan, Dubspot, and Jared Kertel of 12inchskinz.
Until next time!
*Featured photo by Deejay Gemini