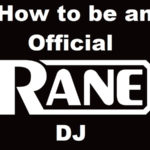 More DJs than ever before are reaching out to us and asking, "How can I become an official Rane DJ?" This is a very good question and one we want to openly discuss with all you Rane gear lovers.
While a small few of these inquiries are DJs looking for free gear, the vast majority want to get involved, help out and be part of the growing Rane DJ community.
Becoming an official Rane DJ is more than winning a major DJ competition. Sure, world champion DJs win gold plated Rane mixers and other fancy Rane trophies, but that doesn't automatically make you an official Rane DJ. It simply means you won a DJ competition and received a hard earned prize, which we fully understand is not an easy task, to say the least.
With that said, lets return to the original question, "How do I become an official Rane DJ?"
For us, becoming an official Rane DJ is dependent on what you're doing to help grow the Rane DJ community. Obviously, owning Rane DJ mixer or SL interface and using it at your gigs is a no-brainer. You have to admit, it's hard to call yourself a Rane DJ if you're not using Rane gear. Besides owning a Rane DJ mixer, we have no set rules, regulations or requirements. We're much too laidback for that sort of thing.
So what exactly are we looking for, you ask?
We're looking for self-motivated DJs that are already doing their best to promote the gear they love. We see your Rane gear pictures on Instagram, we watch your YouTube videos featuring Rane gear, we notice your Rane gear Twitter and Facebook posts, and we truly love them all.
To show our sincere appreciation, we constantly do our very best to Share, Like, Favorite and Retweet your efforts and hard work back to the world. Your time and energy do not go unnoticed and we strive to give back as much as we receive. You know the old saying: What you get back is what you put in, right? So show us your pictures, your videos and your community involvement and we'll show you love.
For those individuals and groups that consistently standout from the rest, you already are official Rane DJs and we will reward you for your support. It will be our pleasure to host your amazing YouTube videos, pictures and stories on our Social Media channels and website. We'll invite you to help us with demos and other Rane events. We will do our very best to promote you and further your DJ career by helping you stand out from the crowd, just like you're doing to help us, Rane, stand out from the rest. Other perks are in the works, just so you know.
We truly love all our Rane DJs and we wouldn't have made it this far, 33 years and counting, without all of your hard work, love and sincere dedication.
From all of us here at Rane, in a small town called Mukilteo, thank you from the bottom of our heart!
Much love to the friends and family of Omar "DJ Double O" Ortiz