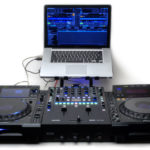 Gone are the days of needing to use store-bought CDs, control discs, or even USB sticks to play your jams. The HID protocol present in many CD players has made things a lot more functional and enjoyable for DJs who use them as their weapon of choice. This article will walk you through getting your CD players communicating with your favorite DJ software.
what is HID mode?
HID stands for Human Interface Device and allows a hardware unit, such as a CDJ, to send information to and from a computer. The main advantage of using HID vs. MIDI is that HID responds to movements as they happen and with virtually no delay. This is obviously a better choice when controlling DJ software. When using a CD player, HID protocol will send commands such as play/stop, forward/reverse, cue point and loop triggers, etc. to your DJ software. It will also allow the CD player to receive information such as LED data (the lights that coincide with the functions in the software), track information (song title, artist, bpm, etc.), and the on/off state of looping functions. The higher end HID controllers have a large screen that will list this information, allowing a DJ to perform without needing to look at, or touch, their laptop at all.
preparing your decks
Various HID controllers may have different procedures to get them connected to a computer but the same steps generally apply. Due to the most popular HID controllers on the market being Pioneer's CDJs (850, 900, 2000) I'm going to use them as my example in this article.
Go to the manufacturer of the controller's website, download the latest firmware upgrade for the device, and install it on the device.
Once the latest firmware is installed hold down the '--Utility/Menu' tab on the CDJ.
Using the encoder knob on the unit, scroll down to 'HID Setting' and press down on the encoder.
Scroll to the 'Advanced' setting and press down on the encoder to select it.
From here, you'll need to connect the device(s) to your computer via USB. If you're computer has enough available USB inputs plug the device(s) directly into the computer. If you do not have enough USB inputs I would suggest plugging the device(s) into a powered USB hub and plug the hub into the computer.
Note: Depending on the gear you are using, not all USB hubs will work with your configuration. You may need to spend some time, and a bit of money, to find one that connects successfully. In my experience, most Belkin powered hubs work.
connecting the software
Not all DJ software supports HID controllers and the software that does might not support the model you have. If you have connection issues, or aren't sure if your unit is supported by the software you are using, check with the company that makes your software to see if your HID device is supported.
Know that you can control Traktor with HID CD players and route its audio to a Rane Sixty-One, Sixty-Two, Sixty-Eight, Sixty-Four, MP25, or MP26 without needing to connect a Traktor sound card. You can also route Traktor's audio through an SL2, SL3, or SL4 for use with any DJ mixer.
Open your software program.
Press the 'Link' button on the CDJ and then press the encoder knob down.
Turn the encoder knob to scroll through the available virtual decks.
Press down on the encoder knob to select the virtual deck you want to control with the unit.
Once you're done with that you should be ready to rock HID style!
Stay tuned for the next blog post about controlling Traktor with your Rane mixer!