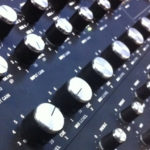 In 1999, Rane released their first rotary DJ mixer, the MP 2016. Modeled after the popular Urei 1620 and the legendary Bozak CMA line of rotary mixers, absolute favorites within the House Music community. The MP 2016 was designed to fill the rotary mixer void created by the late great Bozak mixer series and the discontinuation of the Urei 1620 in 1993. Just like Urei mixer before it, the MP 2016 is a classic styled rotary mixer featuring six stereo Input Channels with Booth and House Outputs. Also providing Tape Outputs, Effects Loop, and headphone cueing. But to meet the changing needs of DJs at the time, the MP 2016 boasted new features never-before seen on a rotary DJ mixer.
Coupled with the release of the MP 2016 mixer, Rane offered the optional XP 2016 External Processor. The XP 2016 was a brilliant addition to the rotary mixer world giving DJs, with the flip of a switch on the MP 2016 front panel, 3-band, isolator tone controls for each channel, A-Post-B Crossfader assign switches for all six channels, a high-performance Active Crossfader™ with full range Contour control, and a stereo 10-segment peak dBu Master/Cue Meter.
The Evolution of the MP 2016 Mixer and XP 2016 External Processor
Original MP 2016 & XP 2016 - October 1999 to early 2004
MP 2016
6 stereo input buses with 4 phono preamps, 2 mic/line preamps and 5 AUX line inputs.
Switchable effects loop.
Master and Booth outputs (booth output is master or cue switchable).
Pre & Post effects tape output.
Accelerated-Slope™ full-cut, 3-band tone controls.
Master/cue headphone amplifier.
RCA inputs, XLR mic/line inputs, 1/4" effects loop, XLR and RCA outputs.
Mic engage switch can duck the Booth outputs -12 dB (defeatable with internal jumpers).
Uses RS1 external power supply with rear panel red RJ 12 power connector (looks like a telephone jack).
"SIG/OL" lights - These dual color indicators provide help in setting correct input and outputs levels. A flashing green indication is optimal. The red indicator should remain off during normal operation.
XP 2016 (optional)
Adds Active Crossfader™ with full-range Contour control; Crossfader assign switches.
Adds Accelerated-Slope™ 3-band tone controls on each input channel.
Adds Master/cue metering.
Single cable connects XP 2016 to MP 2016.
Accessories: F 45 Crossfader replaces 60 MM crossfader with shorter throw 45 mm.
MP 2016a & XP 2016a - Spring 2004 to Fall 2008
MP 2016a
Headphone amplifier features split master/cueing.
Switched from Alps 'Black Beauty' potentiometers to Alps 'Blue Velvet'.
Rounded rotary knobs with with black line indicator without protruding plastic pointer.
Slight changes to faceplate graphics.
Has "MP 2016a" silk-screened on face.
XP 2016a (optional)
Slight changes to faceplate graphics.
Has "XP 2016a" silk-screened on face.
MP 2016S & XP 2016S - Spring 2008 and still in production
MP 2016S
Internal universal power supply works everywhere (100-240 VAC). RS1 external power supply no longer used.
Has "MP 2016S" silk-screened on face.
XP 2016S (optional)
F 60X crossfader replaces the F 60 (only difference is the connecting cable).
Has "XP 2016S" silk-screened on face.
Interesting MP/XP 2016 Facts
The MP 2016 is Rane's second longest continually produced DJ mixer, second only to the MP 24.
First Rane mixer to use an external expander (the XP 2016).
The model number "2016" is a mix-up of the Urei model number "1620".
The XP 2016/a/S external pocessors work with all version of the MP 2016.
The silver rotary knobs are the most expensive knobs Rane has ever used (and the most expensive out of the three isn't the large knob).
Although the design is almost 16 years old, it's still the mixer of choice at some of the top clubs around the world. For example, Robert Johnson (Frankfurt, Germany), Bob Beaman (Munich, Germany), and Kaiku (Helsinki, Finland).
Rane MP/XP 2016S setup at Q Nightclub in Seattle for the 2014 Decibel Festival Rane Osgut Ton After-hours, featuring DJs Marcell Dettmann, Steffi, Anthony Parasole, Efdemin, John Roberts and Kink.