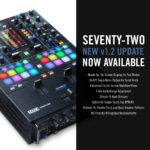 CUMBERLAND, RI USA (June 26, 2018)—Rane DJ (Rane), the established innovator in the DJ industry, noted for their standard-setting solutions coupled with unequalled reliability and customer service, today announced the immediate availability of their new version 1.2 firmware for the revolutionary SEVENTY-TWO mixer. The new firmware delvers many exciting new features and refinements that users have requested, which raises the overall performance of the SEVENTY-TWO to a significantly higher level.
Here's a detailed look at the performance upgrades of Version 1.2:
Pad Modes are now viewable with a heads up on-screen display

By enabling this feature, users see what pad mode has been activated and the available features of each pad. This is especially helpful in some of the new modes like fader effects and transport control.
By tapping on the top bar when you open, the pad mode will remain active until you change modes
This feature can also be disabled in mixer settings.

An added an "On/Off" touch menu option for the scroll knob.

The scroll currently activates track selection view when touched. Sometimes this is not desired.

Screen improvements:

In order to see more or less waveform, waveforms now can be pinched or expanded to zoom in and out
While browsing song titles in Serato Long, song titles will now slide across the screen
Users can set the default view on mixer startup. For instance, the view can be set to waveform when Serato is connected.

Filter knob effective range can be set by adding roll point adjustments

Moving the frequency roll-off points toward audible audio allows you to keep the bass/high when you sweep.

New menu options have been added to restore factory defaults for each area and master.
Tapping effects BPM is now easier with the option to use the Touch FX button as your Tap button in settings and not use two hands. When in this mode, Shift + this button still enables touch FX
Simple FX Beat divisors are now set by default. The RANE Seventy Two Flex FX offers advanced beat divisors such as triples and dotted functions, similar to Serato. Various users have requested the ability to turn these off, so we now offer Simple Modes to remove triplet or dotted option from effects.
Refined Echo, Duck Echo and Hold Echo defaults to match 62 Echo sounds
The paddles now flash when FX are active to ensure the user is aware of its mode.
Touch FX now show time-related effect parameters on X/Y screen for better control
For advanced users, Beat Breaker patterns can now be edited on screen, enabling the user to create unique and complex beat breaks.
Users of the foot switch option will now find a momentary option has been added to support more peddles.
Vegas Mode" added—hold both BACK buttons during power-up
Microphone improvements:

Mic Echo Feedback is now BPM aligned to focused track. This allows MCs to echo in time with a backing track.
Ducker Threshold levels of Low/Med/High with hold release time have been added
"Our goal was to greatly enhance the already amazing user interface and real-world performance of the SEVENTY-TWO mixer," said Paul Dakeyne, Marketing Director for inMusic DJ brands. He added, "This new firmware takes the SEVENTY-TWO to a new level, enabling DJs to execute their ideas instantly and seamlessly, like never before."
Version 1.2 is available immediately with SEVENTY-TWO mixers now shipping and users can download 1.2 from the Rane website to update older versions.