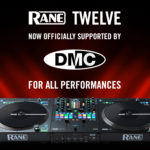 CUMBERLAND, RI USA (March 5, 2019)—RANE (RANE), the established innovator in the DJ industry, noted for their standard-setting solutions coupled with unequalled reliability and customer service, today announced that they will continue their successful partnership with DMC for this year's mixing championships. RANE will support the American regional heats alongside the World final in the UK on September 28th at the Islington Assembly Hall, London.
RANE and DMC are excited to jointly announce that the RANE TWELVE motorized turntable controller is now officially accepted as performance hardware in the DMC mixing championship events from this year onwards. This announcement includes all regional heats, finals and the online competitions. To support this, RANE is offering custom made 12" acrylic control discs to any DJ that competes in the 2019 DMC globally using the TWEVLES*. Keep an eye on the RANE website and socials for more information coming soon.
"We are extremely pleased to once again welcome RANE as our prime supporter for the 2019 DMC WORLD DJ CHAMPIONSHIPS and the ONLINE DJ CHAMPIONSHIPS which will give competitors anywhere in the world an opportunity to compete in the live World Finals in London on the 28th of September. Many DJs have asked that we include the RANE TWELVE turntable and we are happy to confirm that this year we welcome this great turntable onto the stages of the DMC World."
- Tony Prince (Director DMC)
Introduced in 2018, the RANE TWELVE alongside the SEVENTY-TWO battle mixer, has taken the turntablist and DJ world by storm. Now an essential part of the riders for some of the globe's greatest DJs such as Jazzy Jeff, Scratch Bastid, JFB and many more, the TWELVE offers DJs that true vinyl-like feel with all the benefits of the digital DJ world.
###
About Rane Corporation
Rane Corporation is an established innovator in problem-solving DJ and commercial audio tools, professionally engineered with a focus on science, price/performance, and not frills and hype. Designed exclusively in the United States, Rane's product distribution is worldwide. Marketplaces are DJ (performance, club, mobile & recording), Live Sound (FOH and monitoring) and Commercial (music & paging, networked systems) featuring innovative analog and digital audio products for each category. For more information, visit www.rane.com
About DMC
The DMC DJ Battles are the longest running, most prestigious DJ Battles in the world. From DMC battles, legends are made. Being a DMC World or National Champion continues to be one of the most sought-after titles for turntablists worldwide!
* To qualify for the custom acrylics, DJs will need to use the TWEVLE's throughout their time within the 2019 DMCs with video recordings of each performance.