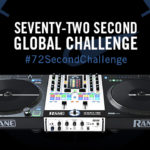 RANE SEVENTY-TWO SECOND GLOBAL CHALLENGE
Do you have what it takes to be the first SEVENTY-TWO Second Global champion?
From the 1st June 2019, RANE will open up submissions for their first 'SEVENTY-TWO Second Global Challenge' asking DJs to show the world just what they can do in 72 seconds on their SEVENTY-TWO mixer and TWELVEs. The competition will run until 30th September 2019 and is open to anyone that qualifies within the rule set.
To help inspire you, RANE has drafted in a selection of global heavy weight DJs to show just what they can do in 72 seconds! Performances from JFB, Skratch Bastid, Mr Switch and many more will be posted over the coming weeks.
THE RULES
Routine must be 72 seconds long
DJs must use a RANE SEVENTY-TWO mixer and TWELVE motorised turntables
Sets must be recorded in 1 take, no edits
One submission per DJ
Final video must be submitted by midnight EST on 30th September 2019
FOR A FULL LIST OF RULES PLEASE CLICK HERE
SUBMISSION PROCESS
Upload your single video submission via WeTransfer, Dropbox or similar
Email this link (no attachments) to 72seconds@rane.com and include the following information:
Name
DJ Name
Email address
Contact Number
Socials (Facebook, YouTube, Instagram, Twitter, website etc)
Please note: RANE will respond to each submission to confirm they have downloaded and accepted your submission.
WHAT HAPPENS NEXT
Once your submission has been received and accepted it will be uploaded RANE's YouTube channel to "SEVENTY-TWO SECOND CHALLENGE: Competitors" playlist. DJs will be notified this has been uploaded via RANE's social networks.
Follow RANE to keep up to date on the competition:
YouTube: https://www.youtube.com/ranecorporation
Facebook: https://www.facebook.com/pg/OfficialRaneDJ
Instagram: https://www.instagram.com/ranedj
Twitter: https://twitter.com/RaneDJ
Be sure to share the video to all your friends!
THE WINNER
On 1st October 2019, RANE will shortlist 8 finalists that will go into a voting round by a panel of DJs: Skratch Bastid, JFB & Mr Switch. These DJs will be grading the entries based on Skill, Technical, Selection, Performance and Originality.
The winner will be announced on Friday 11th October at 10am EST.
PRIZE
SEVENTY-TWO Custom Wrap by 12" Skinz
RANE Black Acrylics + Quick Release Clamps
RANE T-Shirt
RANE Stickers
Featured video slot on RANE Facebook & Edit on RANE Instagram channel