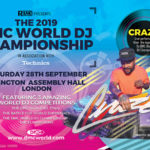 On Saturday 28th September at the Islington Assembly Hall in London, DJ's from all over the world will meet to compete head to head at this year's DMC World DJ Championship finals.
An exciting year for RANE as this will be the first time TWELVES will be a part of the championship, and we can't wait to see what the DJ's will be able to creatively achieve with them alongside our battle-ready mixers.
We wish all the DJs the best of luck!
YOUR CHANCE TO COMPETE AT THE WORLD DMC FINALS!
RANE has teamed up with DMC and international turntablist superstar JFB, to bring you ELIMINATION 900 – a beat-juggling knock out DJ carousel open to anyone attending the World DMC finals this Saturday!
Held on the main dancefloor at 4pm, here's how ELIMINATION 900 will go down:
Before to JFB's Jimi Hendrix routine breakdown at 4pm, DJs wishing to compete will be instructed to form a line near the stage.
Once the routine is finished, JFB will set up The 900 Number track on each deck, and start beat juggling every bar.
DJ's will then one by one, take over to complete 2 beat juggles for 1 bar each.
Once done, swiftly exit the stage to allow the next DJ to take over, then re-join the queue for round 2 (that gets harder!).
We'll keep going until only 1 DJ is left (excluding JFB) – the winner!
DMC legend Cut Master Swift will be on hosting and judging duties eliminating any DJ who fails to keep the carousel running.
Tickets & info here: http://www.dmcdjchamps.com