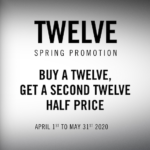 RANE announces an exclusive, limited time deal on the TWELVE motorized turntable controller
Ft. Lauderdale, FL, USA (March 31, 2020)—RANE, the established innovator in the DJ industry, noted for their standard-setting solutions coupled with unequalled reliability and customer service, today announced a deal for global participating dealers to offer DJs a half price TWELVE when they purchase a TWELVE at full price between April 1st 2020 and May 31st 2020*.
The RANE TWELVE is a motorized control turntable that brings a seamlessly accurate, true-vinyl performance experience to digital music software. It liberates DJs and Turntablists from the pain of damaged tonearms or needles and eliminates unwanted audio feedback, bringing sub-bass back into their music. With no tonearm or damaged/skipping needles, the RANE TWELVE gifts the Pro, Club, Scratch and Battle DJ with a zero-error, secure and solid performance environment underpinned with an all-new new black acrylic control disc with grooves. This newly-designed control disc significantly enhances the DJ experience, providing better grip, resistance to warping and more consistent slip.
TWELVE Highlights
Full 12-inch all-new black acrylic control disc with grooves
Quick release spindle adapter
Motorized platter to control playback
Traditional, familiar turntable layout — no need to learn something new
Strip Search with 8 hot-cue-triggers access
0kfcm high-torque motor with high/low torque adjust for more traditional setups
Four decks of control
Extreme precision – 3,600 ticks of platter resolution for seamless performance
MIDI interface via USB
33 1/3 and 45 RPM platter speeds
8/16/50% pitch with precise dual-resolution slider
Top panel rotary and traditional Motor Off switch allows classic wind-down effects
Official Serato Accessorychannels available)
*Or until promotional stocks last, available at participating dealers only
###
About RANE
RANE is an established innovator in problem-solving DJ and commercial audio tools, professionally engineered with a focus on science, price/performance, and not frills and hype. Designed exclusively in the United States, RANE's product distribution is worldwide. Marketplaces are DJ (performance, club, mobile & recording), For more information, visit www.rane.com