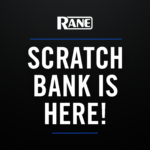 The RANE SEVENTY, SEVENTY-TWO, and SEVENTY-TWO MKII now support Serato DJ Pro's latest Scratch Bank feature. With Scratch Bank, you can access up to 32 different tracks or samples at the press of a button.

To access Scratch Bank, you'll first need to ensure you are running the latest version of Serato DJ Pro. RANE SEVENTY users will be able to access Scratch Bank immediately after updating to the latest Serato DJ Pro version. SEVENTY-TWO and SEVENTY-TWO MKII users will need to download and install firmware version 1.6.

Check out our instructional video on how to install, prep, and use the Scratch Bank feature.