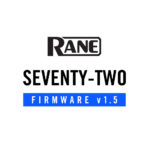 The latest 1.5.3 firmware update for the world-title winning SEVENTY-TWO brings new features to expand your creativity and enhance your flexibility!

Let's take a look at each of the new features:
MAG FOUR FADER SUPPORT
With the 1.5 firmware update you are now able to fit a MAG FOUR fader into all 3 of the SEVENTY-TWO's fader positions. MAG FOUR faders are sold separately and more info can be found on the product page including a tutorial on how to replace faders.

ADDITIONAL DVS INPUTS
With the internal settings menu you can now select which input source Serato takes the DVS signal from: AUX or Phono/CD inputs. This gives DJs the ability to connect the mixer to a traditional turntable to the Phono input whilst also having your DVS signal input go into the Aux input.

SILENT CUE / INSTANT DOUBLES / SYNC CONTROL
Like with the SEVENTY and SEVENTY-TWO MKII mixer, the 1.5 update gives DJ's more creative controls for the SEVENTY-TWO. In the menu settings you'll find parameter controls which enable you to change the function of the two parameter buttons whilst the pads are in Cue mode:
SILENT CUE - Activating this will mute the active channel allowing you to leave the volume fader up, the channel is un-muted the moment you select an active cue point.
INSTANT DOUBLES - As well as being able to instantly double a track using the load/scroll encoder, engaging this mode lets you also use the parameter buttons.
SYNC - This mode will enable you to switch Sync on or off.
CUSTOM - Midi map this to an operation of your choice in Serato.
AND FINALLY..
The firmware updater and mixer control panel are now MacOS Catalina compatible.
Download your update here
Head over to our forum to get a step-by-step overview on how to use each function