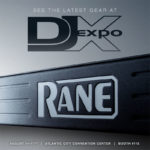 MUKILTEO, WA USA (August 1, 2017)—Rane DJ (Rane), an established innovator in the DJ industry, noted for their leading-edge solutions coupled with unequalled reliability and customer service, today announced that they will introduce two important and exciting new products to the professional DJ market at this year's DJ Expo in Atlantic City. The new models mark a dramatic and impressive move for Rane DJ to the forefront of the DJ stage.

Over the past 12 months Rane's Seattle Washington based engineering team has been hard at work bringing this amazing new gear to life. The same engineering team that set the standards for Rane's rock-solid performance-based mixers has been collaborating with world-class DJs and their crews to develop new DJ performance tools, the likes of which the industry has never been seen before. Rane calls these unprecedented new products Battle Ready. These new introductions will definitely set a new benchmark of excellence for the industry. More detail on these latest products will be forthcoming as DJ Expo draws closer.

To go along with their ground-breaking new products, Rane is also announcing the addition of Brand Manager JP Mathurin (DJ FATFINGAZ) to their team. Mathurin is a seasoned, enthusiastic DJ veteran whose experience and skills are a perfect complement to Rane's upcoming product lineup.

"With these new products, Rane is sending a powerful message to professional DJs all over the world and our loyal, demanding customers that we're present in a big, big way," said JP Mathurin, Brand Manager for Rane DJ. He added, "This will be a breakthrough year for Rane as we push the boundaries of performance, quality and innovation to new heights of excitement. All we can say is you've been warned." #staytuned

Please visit Rane at DJ Expo August 14–17, 2017, booth #115.