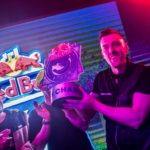 On November 14th, 2019 in Manchester, DJames won the 10th annual Red Bull 3Style UK National Finals, making this his first national finals win. He competed against DJ Itis, DJ Rumz, X-Ray Ted, DJ L-Biz, and DJ Revrt who took home 2nd place.
DJames is the Music Editor for DJCity, and the Dancehall and Afrobeats curator for Beatsource.
Revrt entered his first battle in 2018 at the Red Bull 3Style UK, taking home 2nd place as Vice Champion. He is now Vice Champion for two years running.
Congrats to DJames and DJ Revrt
Watch both sets here…
CHAMP - DJames

VICE CHAMP - DJ Revrt