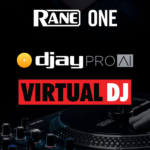 The RANE ONE Now Supports djay Pro AI and Virtual DJ
Two leading DJ software platforms, Virtual DJ and Algoriddim's djay PRO AI, now support the RANE ONE motorized DJ controller with their latest release
Algoriddim's djay Pro AI software for Mac and iOS is now plug-and-play compatible with the RANE ONE, giving users hardware access to djay Pro AI's software interface. In addition to features such as effects, samples, cue points and loops, DJs can now utilize the software's Neural Mix™ technology on the RANE ONE. This real-time music source separation allows for the isolation of beats, instruments, and vocals of any song using cutting-edge AI. This update also includes support enhancements and improved integration with the RANE SEVENTY mixer as well as the RANE TWELVE MKII on both Mac and iOS.
Virtual DJ is also plug-and-play compatible with the RANE ONE and is a robust DJ software for DJs of all skill levels. RANE ONE users can now access Virtual DJ's flagship features, including Real-Time Stems Separation. This allows DJs to separate the elements of any track on the fly, isolating or combining individual musical elements and vocals.
Both djay Pro AI and Virtual DJ are available for download on the respective company websites, algoriddim.com and virtualdj.com.