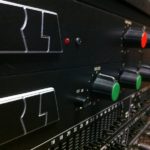 Second in our series of articles highlighting key milestones in Rane product development driven by the DJ community, we have the legendary MP 24 mixer.
Rane first entered the DJ mixer market at the request of Richard Long of Richard Long & Associates (RLA). Richard Long was a famous sound designer for the biggest names in disco. He designed systems for Studio 54, Annabel's (London), Regine's (a chain of 19 clubs scattered around the world from Paris and New York to Cairo) and many others that were the vanguard of the disco era. Richard approached Rane and asked us to redesign his famous X3000 crossover using our proprietary technology. Based on a successful relationship with Rane, he persuaded Rane to research the DJ mixer market. Dennis Bohn and Terry Pennington took up the challenge and produced Rane's first DJ mixer in 1986. The MP 24 rapidly became an industry standard, installed in clubs around the world for nearly 20 years.
The MP 24 mixer introduced many firsts to the industry:
Cleanest and quietest DJ mixer to date.
First assignable crossfader with defeat switch.
First headphone cueing system allowing either stereo program or stereo cue to both ears or mono program to right ear and mono cue to left ear, featuring pan control between program and cue (split cue).
First transformer-coupled light controller output.
First use of studio-grade faders.
Next up: Rane's First Turntablist Mixer.
Rick Jeffs
Senior Design Engineer
Rane Corporation