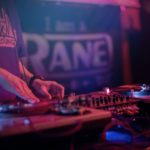 Welcome to the debut of our Local Spotlight series. Local Spotlight is our way of supporting events, groups and people who are giving back to their local DJ communities. Kicking off the first Local Spotlight, we're starting right here in our own backyard to highlight Seattle's Skratch Lounge.
Created in 2010 by DJ Bamboo and DJ Spinja of the Groove Techs crew, Skratch Lounge is a free monthly event for scratch DJs, turntablists or anyone interested in learning the basics and mechanics of scratching or to simply hang out and jam with other like-minded turntablists. Every first Thursday, Skratch Lounge features open-format 'scratch cyphers' to anyone interested in stepping up to the decks, and finishes each night with a DMC-style battle/showcase from the best local and national turntablists.
Over the last three years, Skratch Lounge has successfully created a home for DJs to share a common passion and help bring awareness to turntablism and DJ culture in the Pacific Northwest. Thanks to the hard work and non-stop efforts of the Groove Techs crew and everyone involved in Skratch Lounge, the DMC World DJ Championships returned to Seattle in 2011, creating a huge swing in momentum for the Seattle turntablist movement.
Among the ranks of other Skratch movements along the West Coast, such as Skratchpad, Skratcher, Battle Ave, and SkratchLab, the dedicated people involved with Skratch Lounge are forging the way to keep turntablism alive and well, and stronger than ever in the Pacific Northwest.
If you're in the Seattle area, be sure to check out Skratch Lounge at Trinity Night Club (111 Yesler Way, Seattle, WA) every first Thursday of each month. For more information, please visit the brand new Skratch Lounge website: www.skratchloungenw.com
A Quick Interview with the Groove Techs Crew
Rane: How long have you been DJing and what inspired you to start?
DJ Bamboo: I started DJing in '93, but I've wanted to get turntables since forever before that. I was hooked to hip-hop in the '80s and like most folks in that era, you tried everything (for me it was probably embarrassing in what I attempted). Oddly, I ran across this tape by DJ Magic Mike and The Royal Posse in '89, and there was all this crazy fast scratching on it – from that point on it was the only reason I ever wanted to get my hands on some turntables. After I got my decks, scratching was my main focus, and I didn't really learn how to mix until a year later.
DJ Spinja: I grew up in the '80s listening to Fresh tracks with the Seattle Legend Nasty Nes, he inspired me to become a DJ. In 1989 I got my first mixer from Radio shack, I'd say that would be the start of my DJ career.
Rane: When did the Groove Techs crew come about?
DJ Bamboo and DJ Spinja: Groove Techs actually has been around since the mid '90s, Spinja and I used to DJ UW parties together all the time in our college days. I moved away to Philly for a few years and stopped DJing, and when I returned, Spinja was still holding it down and got me back into it. We never really had a name as a collective group until we started DJing together again in 2007. Our core vibe is to maintain our own version of old school and spread awareness of the nostalgia we had during our most musically influential years. We started themed nights like Joints & Jams (Timeless Hip-Hop and Soul), Back To The DJ (genre specific DJ sets), and Skratch Lounge.
Rane: What motivated you to start Skratch Lounge?
DJ Bamboo: In early 2010, I was in the Bay and heard about this event called Skratchpad, and I thought it was the coolest idea that people were still keeping turntablism alive. It was the reason I wanted to get into DJing, and watching the DMC battle tapes in the '90s is still an inspiration to me today. I wanted to share and spread that passion to others. When I returned to Seattle, I spoke with Spinja and we decided to give it a shot. It turned out to be more successful than we originally planned. That's the beauty of things like this – sometime figuring things out as they come along leads to the most creative results. All of the DJs who show up seem to share a common soul and passion for the DJ/turntablism culture – it still brings me back to when I first wanted to learn how to scratch. Grassroots.
Rane: What is a 'scratch cypher' and how do DJs use it?
DJ Bamboo and DJ Spinja: The cypher is the DJ equivalent to the B-boy circle or an MC cypher. Some DJs view it as a conversation between other DJs using turntables, others view it as a scratching jam session.
Rane: Do you have any exciting things planned for Skratch Lounge that you can leak to the world?
DJ Bamboo and DJ Spinja: We think lasting 3 years for such a niched and under-represented artform is exciting enough for us. We just launched our website skratchloungenw.com, and will continue with our current format - hopefully, locking down more out of town showcases in the years to come. Although, we think we can retire if we can get D-Styles to come showcase and vibe with us (hint, hint).