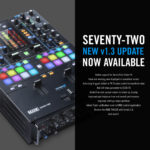 CUMBERLAND, RI USA (December 12, 2018)—RANE (RANE), the established innovator in the DJ industry, noted for their standard-setting solutions coupled with unequalled reliability and customer service, today announced the immediate availability of their new 1.3 firmware for the revolutionary SEVENTY-TWO mixer. The new firmware is being released in conjunction with Serato's new DJ Pro 2.1.
The new release delivers several new key features and improvements, including the highly sought-after Serato post-fader software effects, improved trigger response times and additional information on the SEVENTY-TWO 's heads-up display. The Serato DJ software release will offer additional features such as a new expansion pack 'Serato Play' and support for multiple music streaming services.
New/Updated Features of SEVENTY-TWO 1.3:
Added support for Serato Post Fader FX
Improved pad response time and overall performance
Track end warning now displayed on waveform screen
Addressed a potential issue that the waveform screen might freeze.
Quick Auto-Loop triggers have been added to FX Encoder control while in waveform view
Add 3/4 time parameter to ECHO FX
Added Cue and sample names to heads up display
Improved settings menu workflow
Improved BPM alignment between SEVENTY-TWO and Serato
Added Fader calibration reset in RANE control application
Various other improvements
Added midi output for SHIFT + BROWSE knob pressed & BACK button
Added Fader start (SHIFT +)
New updated features for TWELVE
In order to enjoy and test these new updates, RANE encourages users to download and try both releases, since some features like post fader effects require both to operate. If users only download one, then the updates will operate but with limited features. Rolling back is as simple as installing the previous build.
"Our goal was to greatly enhance the already amazing user interface and real-world performance of the SEVENTY-TWO mixer," said Chris Roman, Senior Product Manager for RANE. He added," This new 1.3 firmware takes the SEVENTY-TWO to a new level, enabling DJs to execute their ideas instantly and seamlessly, like never before."
To access this firmware update, visit RANE: https://dj.rane.com/products/seventy-two
Serato DJ Pro 2.1 can be found here: https://serato.com/dj/pro/downloads
###
About Rane Corporation
Rane Corporation is an established innovator in problem-solving DJ and commercial audio tools, professionally engineered with a focus on science, price/performance, and not frills and hype. Designed exclusively in the United States, Rane's product distribution is worldwide. Marketplaces are DJ (performance, club, mobile & recording), Live Sound (FOH and monitoring) and Commercial (music & paging, networked systems) featuring innovative analog and digital audio products for each category. For more information, visit www.rane.com