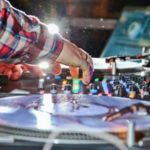 In 2012, Rane, in cooperation with Serato Audio Research, introduced the Sixty-Two mixer for Serato Scratch Live, completing the full integration of Serato Scratch Live software and performance mixer.
The Sixty-Two is the definitive plug-and-play digital turntablist mixer with the following features:
First mixer with Dual USB ports for simple DJ changeover
Internal 20-channel USB 2.0 sound card
Ultra low latency Core Audio and ASIO drivers
Mixer control of MIDI and audio routed to/from two USB ports
Bundled with Serato Scratch Live
Dedicated software controls for library, loops, cues and SP6 sample player
Dedicated USB playback channels for SP6 Sample Player
FlexFx loop with six internal effects, analog loop insert and USB insert
Non-contact magnetic crossfader and up faders
3-band isolator EQs and high/low cut filters
From my prospective as a designer, improvement in the instruments we offer DJs, and what DJs do with those instruments is remarkable. The transformation of mixers from a simple analog design with a few op-amps to a digital system incorporating multiple ARM processors, a powerful DSP core and dual USB 2.0 high-speed interfaces is more than equaled by the evolution of DJ performance. It's been a fun ride and we are proud to be supporting partners.
Next up: Wrapping Up