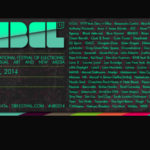 Its that time of the year again. Kids are back in school, the end of summer is around the corner, and the buzz of one of Seattle's best weeks of music, the Decibel festival, is cascading across the lips of ravers and club goers everywhere.
On its 11th year, the Decibel festival has grown to be one of the biggest underground electronic music festivals in the country, showcasing the latest and greatest electronic music, visual art, and new media.
Rane has been a leading sponsor of the event since 2006 and this year is no different as we are proud to be sponsoring three official Decibel after hours parties at Seattle's Q Nightclub. These events will showcase some of the best underground techno music artists using Rane's world class MP 2016S Rotary Club Mixer.
Thursday Sept.25th
​
Artists:
Friday Sept.26th
Artists:
Saturday Sept.27th
Artists:
Check here for full details on the --> Decibel Festival.
​