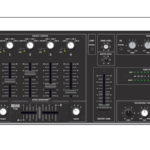 In The Beginning: Rane's Introduction to the DJ Industry
Rane first entered the DJ mixer market upon request from Richard Long of Richard Long & Associates (RLA). Richard Long was a famous sound designer for the biggest names in disco. He designed systems for Paradise Garage, Studio 54, Annabels (London), Regines (a chain of 19 clubs scattered around the world from Paris and New York to Cairo) and many others that were the vanguard of the disco era.
Richard approached Rane and asked them to redesign his famous X3000 crossover using their proprietary technology. This became the X3000A, built exclusively for Richard Long. They also codesigned a DJ equalizer called the Q5000.
Based on his successful relationship with Rane, Richard Long persuaded them to research the DJ mixer market. They did and produced their first DJ mixer, the MP24 which rapidly became the industry standard, installed in clubs around the world for almost 20 years.
Functionality issues on the MP 24 series vary widely. The original MP 24 did not have a switchable booth output ducker, nor could the output level be adjusted as much. These features received immediate attention. The MP 24x is the first version to use the VCA controlled Active Crossfader assembly. The "x" and "z" type crossfaders are not interchangeable. See theCrossfader Replacement Chart for applications and part numbers. The "constant power" (dip in the middle) crossfader circuitcannot be changed to that used later in "z" version.
The Evolution of the MP 24
Original MP 24 Spring 1986 to early 1994
From the front:
Power switch, no plug-in crossfader, old gray-brown color.
Earliest units have smaller shiny plastic knobs on all six slide pots.
Most units shipped with hex (Allen wrench) head screws holding front panel hardware in place.
From the rear:
3-prong AC power cord or a black RJ 12 (looks like a telephone jack) DC 24 volt power jack on some units.
Serial numbers are MP.xxxx format, with four digits only.
Date Code is on separate vinyl silver sticker, using X-YY format (X is QUARTER and Y is YEAR).
MP 24 Remote AC Power Spring 1994 to Fall 1997
From the front:
No power switch
Plug-in crossfader (on all models from this era forward)
Shipped in dark-gray color originally, later in black.
From the rear:
No attached AC line cord
Uses red RJ 12 power connector (looks like a telephone jack).
Uses external power supply called the RS 1. All MP 24 mixers, from this version on, are powered by this supply.
"PH 3, AUX 2 and AUX 1" jumper options listed above RCA input jacks.
Inside the unit:
All versions from now on have internal programming jumpers, so users can change Phono Inputs to Lines as well as configuring other signal routing for Zone and Tape outputs.
MP 24x Fall 1997 to Spring 1999
From the front:
Black chassis.
Has "MP 24x" silk screened on face.
Dual color silk screen on input selectors.
Crossfader knob is same type as used on Input faders, black only.
Crossfader panel says "Active Crossfader" in white print across center of metal plate.
From the rear:
Red RJ 12 power connector (looks like a telephone jack).
Has "MP 24x" silk screened on rear chassis. Jumper options silk screened above RCA input jacks.
Last silver vinyl serial numbers used in 9-99. White bar-code sticker, located on side of unit, used 10-99 onward.
Serial numbers from 10-99 comprised of (21) xxxxxxxx (example: 00123456, [not a valid MP 24 serial number]).
Inside the unit:
All MP 24s now utilize the Active Crossfader meaning the audio is routed through a VCA for better performance and much longer crossfader life span. Crossfader circuit is Constant Power, which results in the notorious "dip in the middle" response.
MP 24z Spring 1999 to Summer 2006 (two versions exist)
From the front:
Black chassis.
Has "MP 24z" silk screened on face
Small tapered crossfader larger dished bus fader knobs on first version, current version has smaller tapered knobs on all slide controls.
Crossfader panel has "F 60" in white print on upper corner of metal plate.
From Fall 2002 Input faders are monorail type; the same used for in the F 60 crossfader.
From the rear:
Red RJ 12 power connector
Has "MP 24z" silk screened on rear chassis.
Jumper options silk screened above RCA input jacks.
Inside the unit:
Crossfader circuitry is no longer Constant Power.
Crossfader halfway (in center position) does not attenuate either bus signal.
F 60 (F 45 is optional) .
F 60 (alternately F 45) crossfader assembly plugs in with six-wire ribbon cable assembly.
Interesting MP 24 Facts and Strange Happenings
The MP 24 is the longest continually produced DJ mixer on the planet. The UREI 1620 had the record for many years. First MP 24 shipped Spring, 1986; it's serial MP1002.
The last MP 24z was built and shipped on July 31, 2006. It didn't quite make its 20th birthday. Its demise came from lead-free solder requirements in the EU. Existing MP 24s will continue to entertain for many, many years.
The first MP 24 was originally designed for broadcast and production applications, not club installs. We designed it "so sturdy," becoming the industry standard was to be expected.
An MP 24 came in with a bullet hole in its rear chassis once, from a .22 going off in a night club. It still worked when it arrived.
We got a mixer back that had been smashed repeatedly (read fit of rage) with a crow bar. Although the front panel was very bent the mixer worked, but the faders were difficult to adjust.
A guy tried to fix a hum in his sound system using a "cheater adapter" on his MP 24 line cord; the channel four circuit board melted and the mixer was destroyed. He later found out the club had "improper" AC wiring. Ya think?!
A customer stripped his older color front panel down to bare metal, had it re-painted black then paid substantial money to have it re-silk screened. Over five years later Rane changed all products to black color. Maybe this guy was clairvoyant.
On more than one occasion, an MP 24 has frantically been shipped back to the factory after champagne was spilled in it -- must have been a festive wedding reception -- just to arrive "dried out" and functioning correctly. We cleaned and tested each of them, just to be sure.
A few MP 24s have survived automobile accidents, with damage ranging from sheared front panels, to almost every control snapped off. We've been able to successfully restore all subjected to this torture, so far.
Last, but not least.....this happened
A creative genius from Arlo's Ballroom in Houston, Texas, refurbished MP 24s with a rotary modification. Here's what Arlo's had to say, "These mixers started life as 1st Generation MP24s...entirely new power supply, new audio chain, transformer-balanced outputs, plus the Bozure isolator, analog meter, and the rotary faders of course. Might be most accurate to say it's a new mixer in an MP24 chassis."